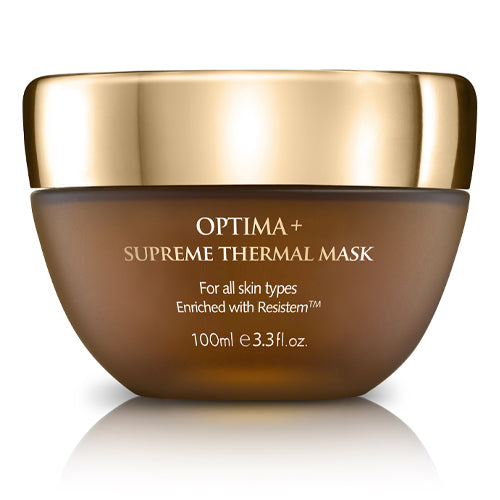 OPTIMA+ SUPREME THERMAL MASK
This wonderfully effective mask acts as a refreshing, deep cleansing treatment. It is based on patented, lab-tested Resistem™. Extended use of this revolutionary product has shown to improve skin's appearance and enhance uniform tone and texture.
Based on patented, lab-tested Resistem™, this mask contains natural Dead Sea mud rich in aluminum silicate that generates heat when in contact with the skin, removes dirt and tightens skin pores. It also includes coenzyme Q-10, a vitamin-like substance that acts as a natural antioxidant, helping to protect your skin. Other effective ingredients are lycopene, a natural antioxidant found in tomatoes that protects and refreshes the skin; and high concentrations of glycerin and propanediol that hydrate and nourish.
After cleansing, apply the mask to completely dry facial skin. Wet your fingertips and lightly massage the mask onto your facial and neck skin for approximately 30 seconds. Let dry for 10 minutes. Rinse with cool water. Use once a week. For best results, follow with Optima+ Supreme Face Serum.
Apply a thin layer of the mask to cleansed, dry facial skin until fully covered. Tightly close the lid to ensure the contents of the mask are not exposed to moisture! Wet hands and gently massage in the mask for approximately 30 seconds until the entire face is covered in an even layer. Note: during the massage with water, the formula will begin to heat up, but should not become overly hot. Let the mask dry for 10-15 minutes and rinse thoroughly with warm water.