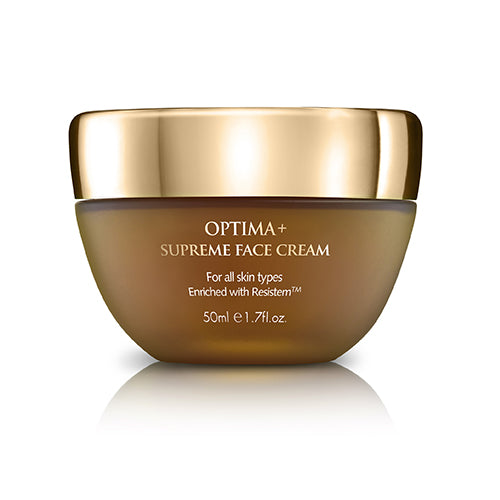 OPTIMA+ SUPREME FACE CREAM
This extraordinary face cream has been created to help minimize the appearance of wrinkles and compensate for the skin's natural aging process. Its remarkable formula works to provide all-day intense hydration, leaving the skin with a translucent, protective layer and a soft, silky feeling.
It is based on lab-tested Resistem™ and helps maintain the skin's youthful appearance. Enriched with small vitamin E capsules that are nourishing and moisturizing, as well as wonder-working Dead Sea minerals, it also contains coenzyme Q-10, a natural antioxidant that provides extra protection to the skin and is effective in promoting a radiant, youthful appearance.
After using Optima+ Supreme Face Serum, apply Optima+ Supreme Face Cream with light, stroking motions until completely absorbed.
Apply an even layer to cleansed, dry facial and neck skin. Massage in gently until fully absorbed.