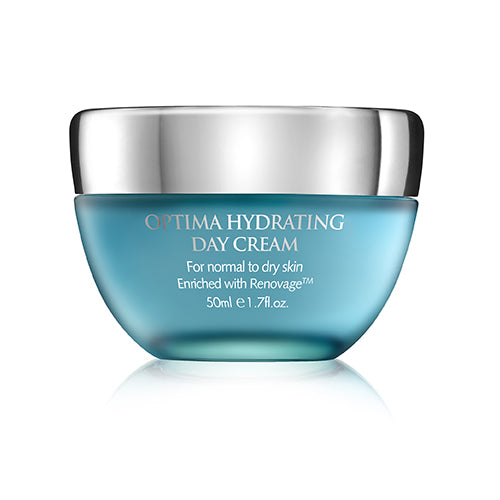 OPTIMA DAY CREAM (NORMAL TO DRY SKIN)
This wonderfully balancing day cream gives you the glowing balanced complexion you want while firming and nourishing your skin. Based on the revolutionary Renovage patent, a uniquely active ingredient that is known to work through human DNA to prolong skin cells' lifespan and encourage cell growth and renewal.
The remarkable formula includes restorative Grape Seed Oil, Calendula Oil and Olive Oil, as well as Shea Butter and soothing Pomegranate and Chamomile Extract as well as Aloe Vera for ongoing hydration.
Apply daily to cleansed, dry facial and neck skin. Massage in until fully absorbed.

RENOVAGE™
RENOVAGE™
A breakthrough in cosmetic science, this uniquely formulated ingredient combats signs of aging by balancing and improving cell quality and skin's functionality.
SAFE NATURAL INGREDIENTS

MARIS SAL - DEAD SEA SALT
MARIS SAL - DEAD SEA SALT
Packed with essential minerals, known to heal and rejuvenate the skin.

ALOE VERA EXTRACT
ALOE VERA EXTRACT
Soothing and refreshing properties, helps renew skin tissues.

BORAGE SEED OIL
BORAGE SEED OIL
Borage oil is the richest plant-based source of gamma linoleic acid (GLA) known. GLA ensures the integrity of the skin cell membranes. This allows the skin to effectively keep the moisture in and irritants out.

GRAPE SEED OIL
GRAPE SEED OIL
Because it contains high levels of vitamin E, this oil may contribute to better skin and reducing UV damage.

OLIVE OIL
OLIVE OIL
Olive oil has many health benefits, particularly for your skin. It's an antioxidant, so it prevents oxidation of the skin and may prevent premature aging and sun damage