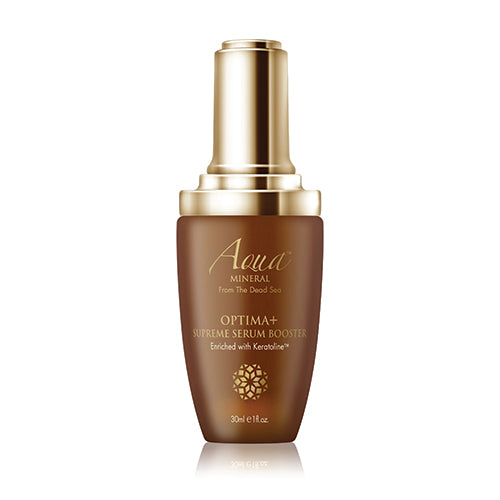 OPTIMA+ SUPREME SERUM BOOSTER
This moisturizing serum booster is based on lab-tested Keratoline™, a formula which gently eliminates dead skin cells to reveal younger, healthier looking skin, and promotes skin cell renewal. This product contains the mineral-rich and nourishing Dead Sea water, that helps reduce fine lines, redness and inflammation of the skin. This serum booster is enriched with sugarcane extract, a great source of lactic and glycolic acid, and sugar maple extract which help eliminate dry and dead skin cells, enhance the growth of new skin cells while maintaining silky smooth skin and prevent new blemishes and wrinkles from forming. The jojoba seed oil in this serum helps reduce the appearance of wrinkles, increases the production of new skin cells and moisturizes dry skin.
Apply a small amount to cleansed, dry facial skin, morning and night, and gently massage in until fully absorbed.