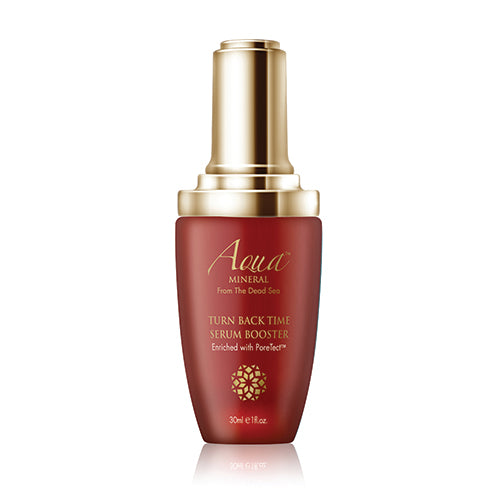 TURN BACK TIME SERUM BOOSTER
This serum booster, enriched with lab-tested PoreTect™, visibly transforms the skin texture and helps give the skin a blurred and satin appearance. PoreTect™ brings firmness, tone and density to the skin, reinforcing the structures that hold the pores tight. Including wonder-working, mineral-rich and nourishing Dead Sea water, this serum booster helps reduce fine lines, redness and skin inflammation. This product is enhanced with moisturizing aloe vera leaf juice and bilberries to tighten and tone the skin while locking in moisture and balancing oiliness. The formula is also enriched with sugarcane extract, a great source of lactic and glycolic acids, which helps eliminate dry and dead skin cells and enhances the growth of new skin cells, while maintaining silky smooth skin. 
Apply evenly onto cleansed, dry skin. Allow mask to dry for approximately 10-15 minutes. Rinse thoroughly with warm water.