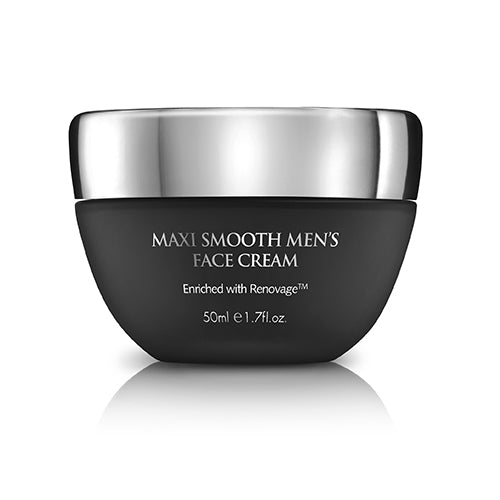 MAXI SMOOTH MEN'S FACE CREAM
Nourishing and hydrating, this innovative cream is based on a rich yet light formula containing a powerful dose of vitamin E, known for its antioxidant activity, and soothing rose hip oil, regarded as effective in preventing lines and signs of aging; it is fortified with exclusive Renovage™ for firm, flexible skin.
Ingredients:
The cream is a cocktail of naturally restorative extracts and essential oils, including chamomile, grape seed, evening primrose, calendula, pomegranate and aloe vera, that deliver nutrients to the skin throughout the day, enhancing the feel of the skin's texture and elasticity. Rich in moisturizing shea butter and minerals from the Dead Sea, Maxi Smooth Men's Face Cream is rapidly absorbed, delivering the perfect natural daily boost for your skin.
Apply to cleansed, dry facial and neck skin after shaving. Massage in using circular motions until fully absorbed.