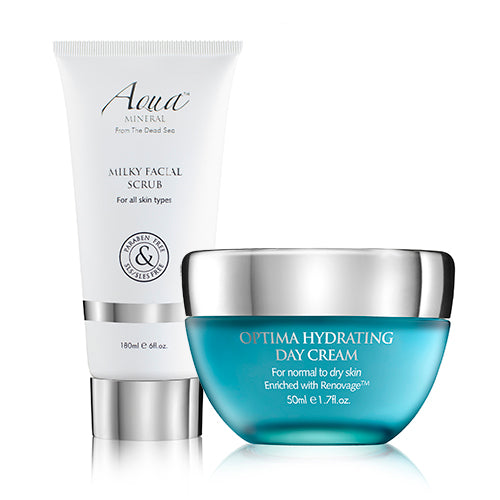 BEAUTY RITUAL KIT
Milky Facial Scrub + Optima Hydrating Day Cream
Milky Facial Scrub: This gently cleansing, moisture-rich scrub is designed to cleanse pores by lifting off grime, makeup residue and toxins. It works to give tired-looking skin a velvety texture and impart a radiant look.Based on fine grains and mineral-rich Dead Sea water, it contains moisturizing aloe vera extracts and gentle chamomile. Also included are pomegranate extract and vitamin A that act as natural antioxidants, as well as sweet almond oil and avocado oil to keep skin naturally hydrated.
Optima Day Cream: This wonderfully balancing day cream gives you the glowing balanced complexion you want while firming and nourishing your skin. Based on the revolutionary Renovage patent, a uniquely active ingredient that is known to work through human DNA to prolong skin cells' lifespan and encourage cell growth and renewal.
The remarkable formula includes restorative Grape Seed Oil, Calendula Oil and Olive Oil, as well as Shea Butter and soothing Pomegranate and Chamomile Extract as well as Aloe Vera for ongoing hydration.
MILKY FACIAL SCRUB: Wet your skin and massage on gently with circular motions. Rinse off thoroughly with lukewarm water. Use daily. OPTIMA DAY CREAM: Apply a small amount daily onto clean skin and gentle massage in until fully absorbed.