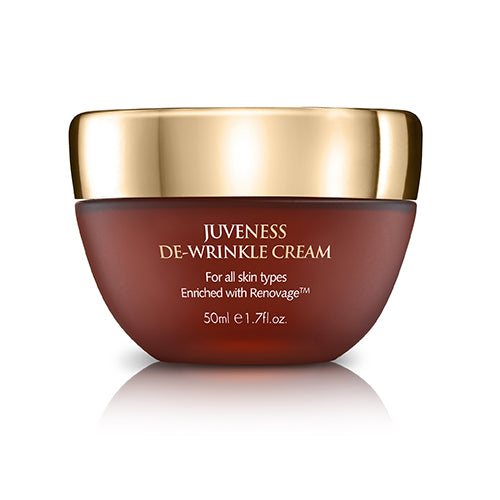 JUVENESS DE-WRINKLE CREAM
This unique facial cream is a breakthrough to improve instantly and most notably the appearance of the delicate skin around the eyes and forehead. Based on Renovage™, this exceptional cream also contains natural components miraculous moisturizing avocado oil, revitalizing oil, wheat germ, evening primrose oil, borage oil, green tea extract, collagen and black mud of the Dead Sea to purify and improve the complexion. They help maintain the natural moisture of the skin and achieve a youthful and radiant glow.
Apply evenly onto cleansed, dry skin directly onto wrinkle-prone areas and massage in gently using light upward strokes.

RENOVAGE™
RENOVAGE™
A breakthrough in cosmetic science, this uniquely formulated ingredient combats signs of aging by balancing and improving cell quality and skin's functionality.
SAFE NATURAL INGREDIENTS

BORAGE SEED OIL
BORAGE SEED OIL
Borage oil is the richest plant-based source of gamma linoleic acid (GLA) known. GLA ensures the integrity of the skin cell membranes. This allows the skin to effectively keep the moisture in and irritants out.

MARIS SAL - DEAD SEA SALT
MARIS SAL - DEAD SEA SALT
Packed with essential minerals, known to heal and rejuvenate the skin.

AVOCADO SEED OIL
AVOCADO SEED OIL
Packed with anti-oxidants, Avocado Seed Oil protects the skin, treats inflamations and rebuilds Collagen.
ADVANCED FORMULA. EXCEPTIONAL RESULTS.

Instantly improves the skin around the eyes and forehead

Purifies and
improves
complexion

Helps maintain natural moisture and achieve a natural radiant skin